Customer Cash Back on 2009 Toyota Corolla
January 29th, 2009 by Armaan Almeida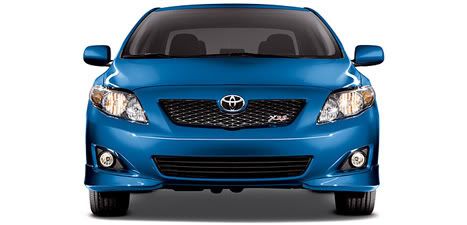 Today through February 2, 2009, Toyota is offering up nice chunks of customer cash on all 2009 Corolla models. Just imagine all the ways you can enjoy a brand new Corolla. With its two available engines, the 1.8-liter 4-cylinder in the base model and the 2.4-liter in the sporty XRS model, the corolla has just enough power to take you anywhere you want to go while keeping you out of trouble at the same time. The Corolla's standard safety features give you peace of mind on a level that's rare to find in the sub-$20,000-dollar segment. Driver and passenger front and side curtain airbags, the Direct Tire Pressure Monitoring System, and antilock brake system are just a few of the things keeping your mind at ease on the road.
On top of that, the 2009 Corolla is also extremely fuel-efficient. With the 1.8-liter Corolla getting 27/35 mpg (city/highway) and the 2.4-liter Corolla XRS getting 22/30 mpg (city/highway), you cam also rest easy knowing that you're saving a ton on gas. If you want to take advantage of Toyota's incredible cash back offers you'd better hurry, because this deal ends February 2, 2009.
Click here and type in your zip code to find the lowest prices on the 2009 Toyota Corolla in your area.